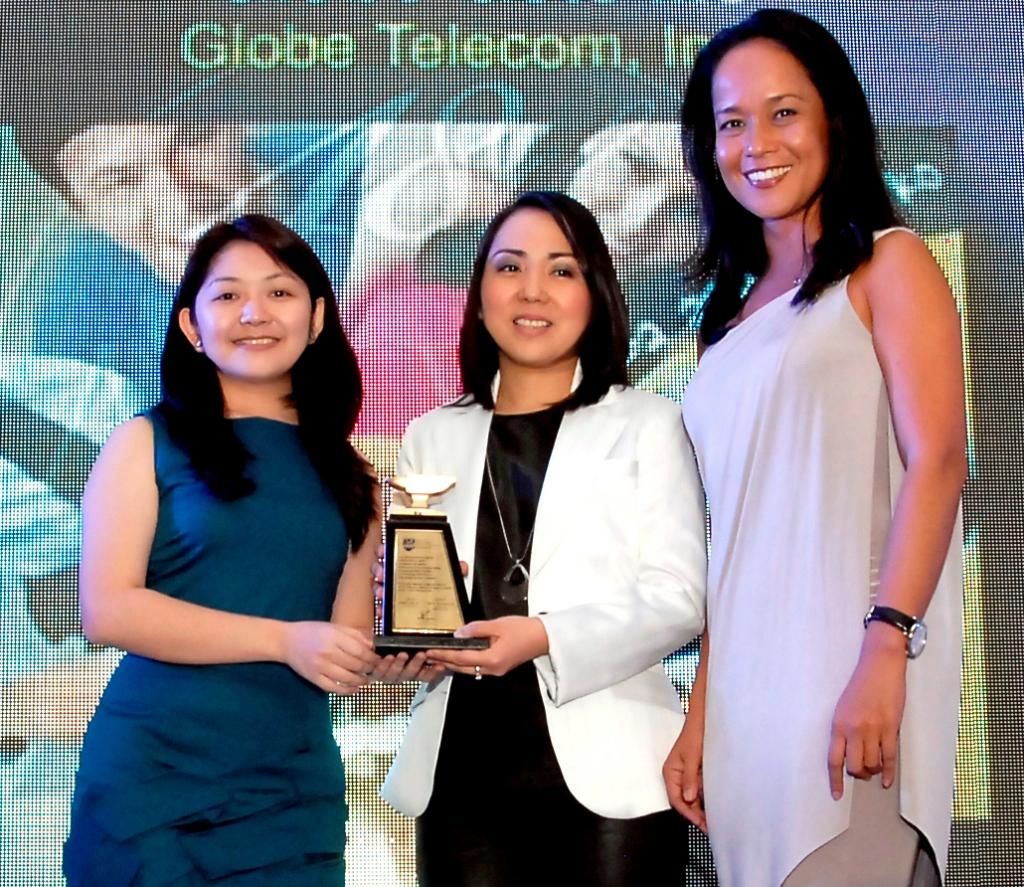 Receiving the Globe Annual & Sustainability Report's Anvil Award from Anvil Committee Member Leah Caringal are Corporate Brand Management Head Cris Lacuna (center) and Sr. Specialist Kristel Or (far left).
The Globe Telecom 2011 Integrated Annual & Sustainability Report (ASR) was conferred an Anvil Award by the Public Relations Society of the Philippines (PRSP) for its ground-breaking combined annual & sustainability report.
Recognized in the 48th Anvil Awards, the Globe 2011 Annual & Sustainability Report is considered a milestone in the industry as the first externally assured telco sustainability report. The Globe ASR used the Global Reporting Initiative (GRI) standards in preparing the report, to make sure that all information disclosed in the report were accurate and reliable.
Globe owns the distinction of being the first Philippine telco to meet the international standards in the preparation of its sustainability report.
"This award is an affirmation of how the Globe Annual and Sustainability Report has become a positive voice for the Company, reassuring our subscribers and stakeholders that Globe is doing its best in keeping its customers, employees, partners and shareholders happy, and that Globe is retaining its profitability through the years," said Globe Corporate Communications Head Yoly Crisanto. "We will continuously try to innovate and make our annual & sustainability report more engaging for our customers."
The Globe ASR is a also game-changer in the industry as it is packed with new features including the Quick Response (QR) game at the end of the report. To access the game, readers are asked to scan an image found at the back of the report using a webcam in the ASR website (
www.globe.com.ph/annualreport2011
).
The QR innovation made the 2011 ASR more engaging and served as a feedback system and a 'self-help' portion for readers to know more about the various Globe products and services.
In addition, Globe also received a Merit Award in the PR Projects Category for its augmented reality 'Globe Gets Me' print campaign. The campaign is considered a landmark in the industry as well as the Philippines' first augmented reality print campaign.
The campaign is a three-themed ad intended to convey the Globe brand essence of doing things 'Your Way'—showing how Globe gives diversity to every subscriber with its customized plans and services. The three ads tackled subjects close to Filipinos' hearts like Christmas, Pinoy food, and love. The ads were published in national and provincial newspapers, tabloids and select magazines from December 2011 to February 2012.
To experience augmented reality, the readers were asked to scan the AR icon found in the lower left portion of the ad using a webcam in the Globe Gets Me website (
www.globe.com.ph/globegetsme
). This enabled the readers to the see the 'Do it Yourself' element in each ad content, making the online component more engaging for the readers.